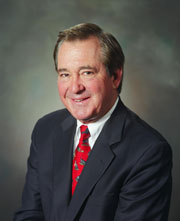 John P. Stabile IIJohn P. Stabile II graduated from Bridgeton (Maine) Academy in 1965 and Norwich University in 1969. Following graduation, he was commissioned a second Lieutenant in the US Army Infantry and began his active duty assignment with the US Army Infantry, as a jungle training officer, served two years, and rose to the rank of First Lieutenant.
Stabile returned to Nashua following his military service joining one of New Hampshire's leading contractors, Border Corporation. Within 24 months he became Vice President and General Manager.
In 1973 Stabile founded H.J. Stabile & Son, Inc. The company, a general contracting firm, was named after Stabile's father, Harry J. Stabile (1916-1962), a former prominent builder and banker in the Boston area.
Over the past 42 plus years, The Stabile Companies have built over 4,000 homes and millions of square feet of commercial and industrial property throughout New England.
John P. Stabile, II has been active politically both on the state and national levels.
1981-1987 Served three terms in the New Hampshire State Senate, two terms as Senate Majority Leader, two terms as the Chairman of the Senate Banking Committee, two terms as Chairman of the Senate Capital Budget Committee – he also served on the Senate Finance Committee.
1981-1990 Stabile was active in the New Hampshire Republican State Committee.

Served three terms as the Assistant Chairman.
Served one term as the Finance Chairman.
Served as Chairman of the New Hampshire State Republican Party on four separate occasions under Governor Sununu, Governor Greg and Governor Merrill.

1984 Served as Reagan-Bush New Hampshire Finance Chairman
1988 Bush for President New Hampshire Finance Chairman
1988 Bush-Quayle Finance Chairman
1992 General Chairman Merrill for Governor
2010 Co-Finance Chairman for U.S. Senator Kelly Ayotte
Civically, John Stabile is the past president of the New Hampshire Homebuilders' Association, past National Representative to the National Association of Homebuilders, New Hampshire Land Conservation Investment Trust.
He formerly served on the Board of Directors for Fidelity Health Alliance, Catholic Medical Center, New Hampshire Chapter of the American Red Cross, Southern New Hampshire Chamber of Commerce and Industry, New Hampshire Golf Association and Member of the Finance Committee for the Bishop's Relief Fund. Mr. Stabile was Chair of the Daniel Webster Council Distinguished Citizens Award Dinner and the recipient of that award in both 1991 and 2015. He served 10 years as a member of the Board of Trustees of Hesser College. Mr. Stabile is the former owner of the Nashua Pride, a minor league baseball team located in Nashua, New Hampshire.
Mr. Stabile was a member of the Board of Directors of First Federal Savings and Loan Bank of Nashua, New Hampshire until its sale to New Hampshire Savings Bank. He served on the New Hampshire Savings Bank board. He subsequently became one of the founding partners of The Nashua Bank. He presently serves on the board of Lake Sunapee Bank of Newport, NH.
He is a former member of the Woodland Cemetery Commission. He served as a Trustee at Bridgeton Academy and at his alma mater, Norwich University, for over ten years. He also served on the Board of Trustees of Rivier College. He was a member of the Nashua Police Commission for 5 years. Mr. Stabile is an Incorporator of Optima Health, New Hampshire Charitable Foundation, Member of Corporation of the Southern New Hampshire Regional Medical Center. Mr. Stabile is a member of the New Hampshire Board of Realtors and served on the Board of Directors of the National Association of Homebuilders.
Mr. Stabile was the recipient of the Nashua Chamber of Commerce Citizen of the Year Award in 2015.
On the personal side, John Stabile resides in Nashua with his wife Ginny and has two children, John III (Jake) and Ryan.