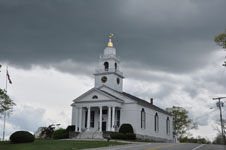 Bedford NH was founded in 1750 and is a town in located in Hillsborough County, NH. Bedford has one of the highest average personal incomes in the state of NH and many residents commute to the Boston Loop.
Bedford is home to roosting eagles and shopping malls; antique farmhouses and modern office buildings; exclusive residential neighborhoods and first class office parks. It is just five miles from the commercial and cultural resources in downtown Manchester, yet a single turn down a side road in Bedford can transport you to classic New England countryside.
Through careful planning, Bedford has been able to balance residential and commercial needs to offer a wonderful combination of rural character and urban convenience. The town's great location, convenient shopping and small town flavor has made Bedford one of New Hampshire's most sought-after residential communities. Its per capita income consistently ranks among the top in the state.
Bedford residents enjoy a wonderful library, acres of conservation land, and superior recreational facilities, including athletic fields, tennis courts, a sledding hill and cross-country ski trails. The town's active Parks and Recreation Department offers a wide range of programs and classes for all ages.
Manchester's museums, theater, and nightlife are just over the border from Bedford. Residents who like roam farther afield are just one hour from Boston, an hour from New Hampshire's lakes and mountains, and less than an hour from seacoast beaches and boating.
History
Like much of southeastern New Hampshire, Bedford has grown very quickly over the last fifty years. The 2000 population of 18,274 was over eight times the population in 1950 of 2,176. Every decade has had a substantial rate of growth, ranging from 33 percent between 1980-1990 to a 67 percent increase between 1950-1960. The 2005 population estimate by the New Hampshire Office of Energy and Planning was 20,738 residents, which ranked 13th among New Hampshire's incorporated cities and towns.
Geography
According to the Census Bureau, the town has a total area of 33.1 square miles of which 32.8 sq miles is land and 0.3 sq miles is water, comprising 0.85% of the town. The largest body of water other than the Merrimack River is Sebbins Pond, which is connected to smaller, neighboring bodies of water by Sebbins Brook. Bedford is bordered by the town of Goffstown and the city of Manchester to the north, by Manchester to the east across the Merrimack River, by the town of Merrimack to the south, and by the towns of Amherst and New Boston to the west.
A rock formation called Pulpit Rock (originally the Devil's Pulpit) is located in the northwest part of the town on New Boston Road and is the feature of the town-owned Pulpit Rock Conservation Area. The highest point in Bedford is Holbrook Hill, at 845 feet.
For more information about the town of Bedford New Hampshire please visit the official town website: www.bedfordnh.org