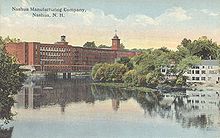 Nashua, "The Gate City", is the second largest city in New Hampshire and is the center of a diverse and dynamic region of more than 175,000 people. The combination of an excellent quality of life and proximity to Boston, the seacoast, and the White Mountains makes Nashua an attractive growth center for New England. Nashua has been named 'Money' magazine's "Best Place to Live in America," and is the only city in the country ever to win this honor twice.
Population Density and Land Area, 2008 (NH Office of Energy & Planning):
2,815.5 persons per square mile of land area, the second highest among the cities and
towns. Nashua contains 30.8 square miles of land area and 1.0 square miles of inland
water area.
Nashua's location right over the border from Massachusetts and approximately 50 minutes from Boston has made it one of the most densely populated areas in New Hampshire. Nashua is New Hampshire's second largest city and is the center of a diverse and dynamic region with more than 175,000 residents.
Downtown Nashua is a vibrant area filled with businesses, boutiques and restaurants. Brick sidewalks and renovated historic buildings retain the flavor of an old-fashioned urban area.
Extending out from the downtown area, Nashua supports a booming retail district that attracts shoppers from all over New England. Stores and restaurants line Route 101A, just minutes from Pine Hill Gardens. The one million square foot Pheasant Lane Mall is only five miles away.
Nashua's outstanding park system and nearby state parks offer a full roster of outdoor activities. The two largest parks, Greeley Park and Mine Falls Park, are the focal points for many community events, including outdoor plays and concerts. Sports fans flock to the historic Holman Stadium, which serves as home field for the Nashua Pride, an independent league baseball team.
The Nashua Symphony, Nashua Ballet, local art galleries and other organizations offer an array of cultural options for Nashua residents. Additional choices in nearby Boston, Manchester and Portsmouth provide a full calendar of cultural events.
Nashua residents enjoy a location that is "close to everything." New Hampshire's lakes, mountains and beaches are just a little more than an hour away, and the bright lights of Boston are within a 50-minute drive.
Type of Government: Mayor & City Council
Emergency Services: Full Time Police and Fire Departments
Nearest Hospitals: St. Joseph Hospital, Southern NH Medical Center
Just over an hour away, you can visit the majestic White Mountains, sunbathe at our famous Hampton Beach, enjoy a cruise in the Portsmouth Harbor, or grab the Boston Express Bus to everything Boston has to offer.
Living in Nashua New Hampshire is like being on vacation 365 days a year!
For more information about Nashua New Hampshire please visit the official town website: www.nashuanh.gov