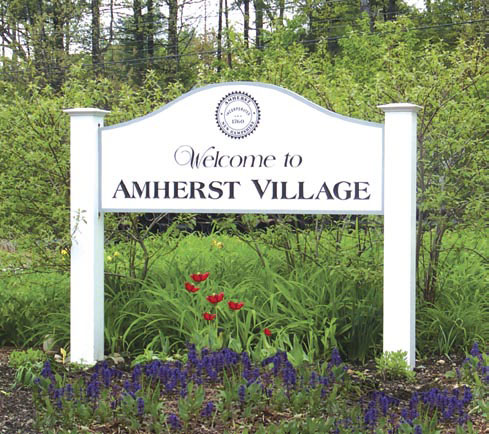 AMHERST'S CONVENIENT LOCATION AND SMALL TOWN AMBIANCE HAVE MADE IT ONE OF THE MOST SOUGHT-AFTER COMMUNITIES IN SOUTHERN NEW HAMPSHIRE.
Picture a classic New England town in your mind's eye and you'll see Amherst. Colonial-era homes and stately shade trees surround a village center that is listed in the National Register of Historic Places. Rural lanes lined with old stone walls wind through the town and residents still turn out in droves for the old-fashioned July 4th parade. Acre upon acre of conservation land provides plenty of recreational opportunities all the while preserving the town's rural flavor.
It's easy to forget that Amherst is just 10 miles west of downtown Nashua and only a bit farther from downtown Manchester. It is ideally positioned for an easy drive to Boston to the south, the New Hampshire and Maine Seacoast to the east, and the Lakes Region and White Mountains to the north.
Amherst's convenient location and small town ambiance have made it one of the most sought-after communities in southern New Hampshire. Careful planning has helped it keep its distinctive historic personality while supporting retail and business development to meet the needs of today's residents.
Location, Location, Location...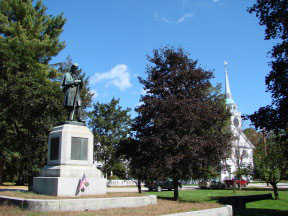 Amherst residents are the caretakers of a village brimming with historic relevance, family friendly neighborhoods, and 1,200 acres of open space and conservation land that provides for passive recreation and protects habitat for wildlife.
Situated with the Monadnocks to the west and one hour from big mountain skiing, the lakes region, the New Hampshire coastline, and Boston, it is understandable that Amherst is a desirable place to call home. The town can also take pride in a quality education system, kindergarten through high school, a library that is a hub of community activity with a per capita circulation rate that is among the highest in the state and a recreation department that provides programs to meet the recreational needs of nearly 4000 citizens. The recreation department also operates Peabody Mill Environmental Center, Hartshorn Summer Program and Baboosic Lake Beach. New this past year was a Summer Concert Series on the Common. In addition, recreational opportunities in and around Amherst: include golfing at two eighteen hole courses, a nine hole course, an executive course and driving range; Jasper Valley Swim and Tennis club, Baboosic Lake, and Hampshire Hills Sports and Fitness Club, town recreational sports, trails for hiking. cross-country skiing, and Souhegan River for canoeing.
Community involvement is a large part of living in Amherst. The year is full of celebrations and much of the activity is in the village. The July 4th Parade and celebration, the Amherst Tree lighting. Memorial Day Parade, the Library Book Sale, Historical Society Antique Show and Sale, the Amherst PTA Play, Turkey Trot, Community Basket Project, Halloween in the Village, Third Grade Amherst History Unit, AJWC Easter Egg Hunt, Gardeners Plant Sale, Library Monthly Art Exhibits, Amherst Farmers' Market and Town Band Concerts - all provide something for everyone.
Article from the April 26th, 2011 Amherst Citizen.