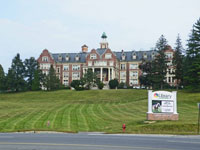 Hooksett is a town in Merrimack County, New Hampshire, United States. The population was 13,451 at the 2010 census. The town is located between Manchester, the state's largest city, and Concord, the state capital. A prominent landmark is Robie's Country Store, a National Historic Landmark and a frequent stop for presidential candidates during the New Hampshire primary.
The central village in town, where 4,147 people resided at the 2010 census, is defined as the Hooksett census-designated place and is located at a bridge crossing of the Merrimack River. The town also contains the census-designated place of South Hooksett.
Hooksett New Hampshire's location just north of Manchester and approximately 12 miles from Concord has made it one of Southern New Hampshire's fastest growing communities.
Hooksett's ideal location between Manchester and Concord along major transportation routes has made it a favorite with residents and businesses alike. In the past 20 years, Hooksett has grown from a small town into the 20th largest municipality in New Hampshire.
Despite its recent growth, Hooksett has successfully preserved much of its architectural and natural heritage. Local preservation efforts were recognized in the Preserve America designation awarded to the town in 2005. The Preserve America initiative was established by the Bush Administration to encourage and support community efforts for the preservation and enjoyment of America's heritage. Hooksett was the first community in New Hampshire to receive this designation.
Hooksett residents enjoy convenient shopping centers, restaurants, movie theaters and recreation areas. Fine dining, theaters, shopping malls, boutiques and nightclubs are just a short drive away in nearby Manchester and Concord. For longer adventures, Boston and New Hampshire's lakes, mountains and beaches are all within an hour's drive.
History
Hooksett was incorporated in 1822. First known as Chester Woods and Rowe's Corner, this town was called Hooksett for nearly fifty years before being incorporated. The name may have come from a hook-shaped island in the Merrimack or from early fishermen, who called the area Hookline Falls. Rocky ledges flank the Merrimack River, and there were several cross-river ferries located here, as well as lumber mills and a brick-making establishment powered by the falls. In 1794, the lottery-funded Hooksett Canal became part of the transportation facilities of the Amoskeag cotton mills in Manchester. The first census, taken in 1830, reported 880 residents
Demographics
As of the census of 2010, there were 13,451 people, 4,926 households, and 3,533 families residing in the town. The population density was 369 people per square mile (142.4/km²). There were 5,184 housing units at an average density of 54.9 units/km² (142.4 units/sq mi). The racial makeup of the town was 94.6% White, 1.0% African American, 0.2% Native American, 2.0% Asian, 0.1% Pacific Islander, 0.7% some other race, and 1.5% from two or more races. 2.1% of the population were Hispanic or Latino of any race.
There were 4,926 households, out of which 34.2% had children under the age of 18 living with them, 59.0% were headed by married couples living together, 8.8% had a female householder with no husband present, and 28.3% were non-families. 20.4% of all households were made up of individuals, and 7.6% were someone living alone who was 65 years of age or older. The average household size was 2.59, and the average family size was 3.01.
In the town the population was spread out with 22.4% under the age of 18, 10.9% from 18 to 24, 25.1% from 25 to 44, 30.0% from 45 to 64, and 11.6% who were 65 years of age or older. The median age was 39.8 years. For every 100 females there were 93.7 males. For every 100 females age 18 and over, there were 91.8 males.
For the period 2009 through 2013, the estimated median annual income for a household in the town was $81,792, and the median income for a family was $96,469. Male full-time workers had a median income of $57,228 versus $45,116 for females. The per capita income for the town was $34,355.
For more information about the town of Hooksett New Hampshire please visit the official town website: www.hooksett.org